Please click here to Sign Up for eScrip
eScrip is a fantastic resource for fundraising where participating business partners contribute a percentage of your grocery loyalty cards, credit card, and debit/ATM card purchases to Carthay.

Here's How it Works:

Grocery Stores – Register any one or all of your grocery loyalty cards for Vons/Pavilions, Super A Foods and Fresh&Easy. When you shop at the store, Carthay will receive up to 4% of your purchases (For Vons/Pavilions, cash and debit/ATM card purchases only).

Dining – Register your credit/debit card and eat at any one of over 600 participating restaurants. Carthay will receive up to 5% of your restaurant bill. See here for participating restaurants.

Shop with eScrip – Register your credit/debit card and earn up to 16% of your purchases for Carthay from participating merchants. Download the "AutoEarn" app here to your computer to automatically alert you of a participating merchant.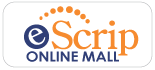 Participating merchants (Vons, Pavilions, etc.) will make contributions to Carthay, based on purchases made by you, just by using the cards you have registered.

Your purchases are tracked and available to you online, allowing you to see just how much you are earning on your child's behalf.


Register your Ralphs card for Carthay. Bring the Carthay letter to Ralphs and have the cashier scan the bar code.
Shoparoo is a simple and easy way to earn for Carthay. Register here and download the Shoparoo app to your phone. Using the app, take pictures of your grocery, pharmacy, pet, convenience, liquor and discount retail store (Target, Walmart, Costco, Smart&Final etc.) receipts and earn points for Carthay.
Electronic Recycling Donate empty printer/toner cartridges, used cell phones, small electronics and used batteries. Drop your items in the collection boxes outside the School Office.



Sign up here to earn eBox Tops for Carthay with online purchases. Select Carthay Center PTA as your organization.

Link your Vons "Just for U" to earn additional eBox Tops. Clip Box Tops and drop them in the collection box outside the School Office.